Gather one, gather all to see,
Golden coronets frame their hed,
They stand tall and proud.
As time gathers,
Oaths have been honoured,
The Crown watch on, to celebrate Mordenvale's glory.
The thrones anew.
Saturday 1st July to Sunday 2nd July 2023
Tocal Agricultural College – 815 Tocal Rd, Paterson NSW 2421
Graced by the presence of their Majesties, please join us in celebrating the outgoing and incoming Baron and Baroness of Mordenvale.
Come fight in our annual Tocal Token Tourney, revel by the fire, enjoy a comforting winter feast and more.
Stewards:
Bjorn Sæmundarson and Fenissa Æriksdotter
mordenvale@gmail.com
Bookings:
Mistress Lillian D'Ath
tocal.booking@gmail.com
BOOKINGS ARE ESSENTIAL
Full Event – Lunch, Feast and Breakfast. Does not include accommodation.
– Member Adult: $65
– Students: $50
– Children (10-17): $30
– Children (Under 10): Free
Day visitors – Lunch and Tourney. Does not include feast.
– Member Adult: $20
– Students: $15
– Children (10-17): $10
– Children (Under 10): Free
Non-member Adults + $10
Non-member Children + $5
Email bookings officer for offboard tickets.
Accommodation
– Camping: $30 per tent
– Dorms available: student style single room accommodation $55
All attendees are required to make an attempt at pre – 17th century clothing.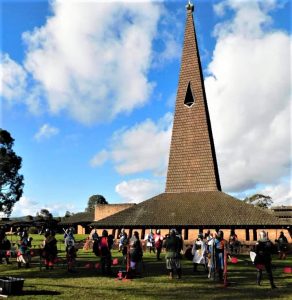 What is a Barony?
A barony is an area administered by a Baron and/or Baroness, the ceremonial representative(s) of the Crown. The Barony of Mordenvale is a part of the Kingdom of Lochac (Australia and New Zealand).
What does a Baron and Baroness do?
In their own Barony the Baron and Baroness are much like the Crown. They cannot make Laws, but they can set local customs and practices and do serve as the local examples of courtesy and grace. Most importantly they are the titular heads of the local theatre. In this role, they are also the direct representatives of the Crown at the local level and are the most frequently seen titled nobility.